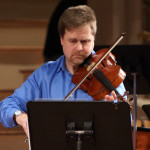 Peter Sulski, viola, has performed in over 30 countries as a member of the Apple Hill Chamber Players, London Symphony Orchestra, Academy of St.-Martin-in-the-Fields, Cyprus Chamber Orchestra, and Al Kamandjati Baroque Ensemble (Palestine). He returned to his native Worcester in 2002, after holding  the position of Head of Strings of the Edward Said National Palestinian Conservatory.
Mr. Sulski is a founder and member of the Worcester Chamber Music Society, which performs over twenty concerts annually in the New England region. He is an educator with the society's Neighborhood Strings, a free program for disadvantaged youth. Peter is also the founder of Chapel Royal Concerts in Brighton, England, now entering its 25th season, presenting over 40 concerts annually.
Performances of note have included the Arnold Viola Concerto with the State Orchestra of Sicily, Mozart's Sinfonie Concertante with the Cyprus Chamber Orchestra and the Palestine National Orchestra, a Carnegie Hall debut in 1999, and  a solo recital appearance at London's South Bank in 2002.
He currently appears as principal violist with Odyssey Opera, Camerata New England, and the Orchestra of Indian Hill.  Other chamber music activities include the Pedroia quartet, (along with Jae Lee, a founder of A Far Cry), the Chameleon Ensemble,  duo partnerships with pianists Yundu Wang and Jonathan Yasuda, Boston Musica Viva, Clark 2021 Contemporary Ensemble, and the Al Kamandjati Baroque Ensemble.
Other activities and professorships include Concert Master of  Bach Consort, specializing in baroque violin concertos, and positions at College of the Holy Cross, Clark University, Assumption College, and Worcester State University. He is Artistic Director of the Worcester Symphonic Project, part of Music Worcester's Outreach Program.
He received his undergraduate education at the Eastman School of Music, and holds Artist Diplomas from the Banff Centre for the Arts and the Royal Academy of Music, London. Peter is a former fellow of the Tanglewood Music Center.
Share