In the words of our students……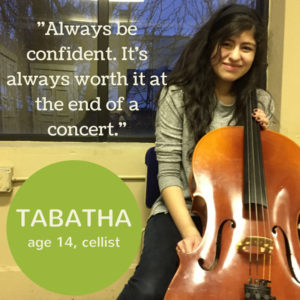 Tabitha, age 14, decided to learn the cello because she looked up to Ariana, and playing the same instrument as her was really cool! She likes playing the cello because of the super low notes and is learning to pay attention to intonation so she can fix her mistakes quickly. She wants new musicians to remember to always be confident because it's so worth it when you finish a concert.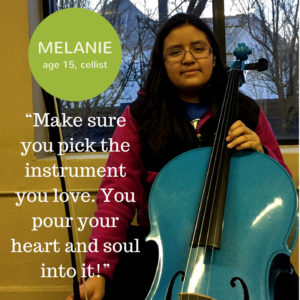 Melanie, age 15, has been with Neighborhood Strings for 5 years. She decided to learn the cello because the first time she saw Ariana playing, she was mesmerized.  She likes it because of how it sounds, and when she moves her bow, she feels like she's creating a flow with the music. Her advice for a beginner? "Make sure you pick the instrument you love. You pour your heart and soul into it!"
Delano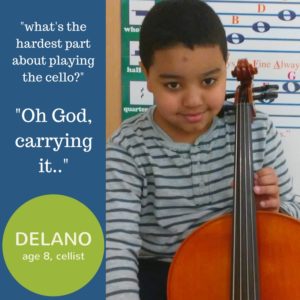 , age 8, is a budding cellist. He chose it because of how big it was, but to his dismay, it turned out to be really heavy. Although, the size "makes it easier to do the pizzicato". The hardest part of playing the cello? "Oh God. Carrying it," Delano says. Delano has been playing for three months and loves playing his own songs.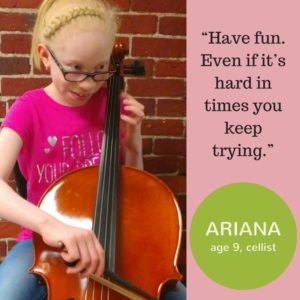 Ariana, 9 years old, started the cello a year ago because she liked the sound of how low it gets. She's learned to play Twinkle Twinkle Little Star and is quite proud of it! She likes to make up her own music and play it for her parents, and loves having lots of friends in Neighborhood Strings. Some advice from Ariana: "First thing: don't break it. Because I broke mine like two times already…" Her second piece of advice? "Have fun. Even if it's hard in times you keep trying."