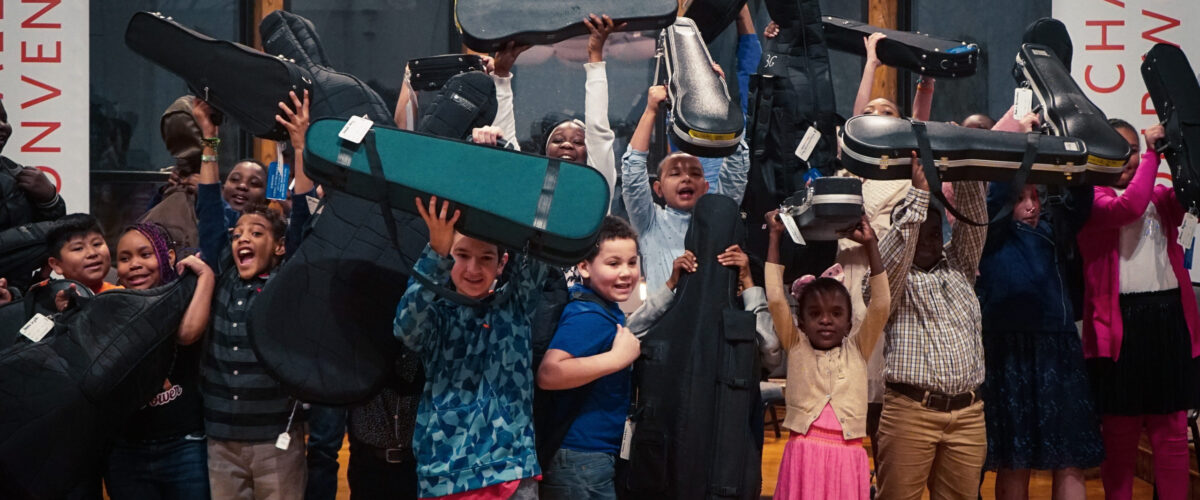 With music as our vehicle, we believe in weaving together a strong fabric of community that safeguards youth and engenders sustainable transformation inside and outside the classroom.
Neighborhood Strings is an El-Sistema inspired, community-based program of the Worcester Chamber Music Society (WCMS) that offers free music lessons in violin, viola, and cello to youth from Worcester's Downtown and Main South neighborhoods. The program provides affordable, high-quality arts education, fosters family involvement and is open and accessible to the neighborhoods. Youth learn to make music together with musicians and friends from the WCMS. In the process, they discover a creative outlet that hones life skills like discipline, cooperation, imagination, and leadership. Teachers work to forge strong relationships with students that strengthen WCMS's ties to the community. The focus is not just on the child as a musician, but the child as a citizen and a contributing member of society.
The program runs 5 days a week. Students, ages 6-18 receive weekly lessons, daily orchestra, and performance opportunities both in and after-school hours.
Lessons take place at Woodland Academy, a neighborhood school in the Main South area, Learning First Charter Public School, located in downtown Worcester serving a diverse cross-section of Worcester children,  Clark Street Community School, serving new refugee youth in the "New Citizens" program, and the Main South Community Development Corporation.
Neighborhood Strings was named as one of the Massachusetts Cultural Council's SerHacer programs as part of their Community Music Initiative.
Recipient of the 2017 Arts|Learning "Outstanding Community Arts Education Collaborative—Music" award.
Funded in part by the Massachusetts Cultural Council, Amelia Peabody Foundation, Klarman Family Foundation, D'Addario Foundation, Find Your Light Foundation, Fred Harrist Daniels Foundation, Greater Worcester Community Foundation, Rockwell Charitable Trust, Mildred H. McEvoy Foundation, Brooks and Joan Fortune Family Foundation, and the Stoddard Charitable Trust