WCMS Musicians
Mark Berger, resident composer/violist–  has performed with many of Boston's finest ensembles, including the Boston Symphony Orchestra, Boston Pops Esplanade, Emmanuel Music, Boston Modern Orchestra Project, Opera Boston, and Boston Lyric Opera. An avid chamber musician with a particular interest in performing new music, he is a member of the Lydian String Quartet, Music at Eden's Edge and has a duo partnership "The Two Composers" with pianist/composer Ketty Nez. Mark has recently performed with the  Radius Ensemble, Boston Musica Viva and Ludovico Ensemble. Mark also maintains an active career as a composer, having received awards from the League of Composers/ISCM and ASCAP. The New York New Music Ensemble, Dinosaur Annex, ALEA III, the Worcester Chamber Music Society, Xanthos Ensemble, Music at Eden's Edge, QX String Quartet, and the Lydian String Quartet have presented his works locally. He is currently on the music faculty at Brandeis University, Boston College, UMass Lowell and Middlesex Community College.
---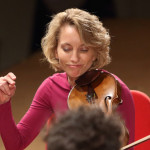 Krista Buckland Reisner, violin – "Things done right.."(Boston Globe), "…Excellent left hand.."(Toronto Star), and "…lovely tonal bloom…"(LeDROIT), describe performances of violinist Krista Buckland Reisner. Over the past 25 years, she has performed with well-known and diverse musicians from Leonard Bernstein to John Williams, Anton Kuerti, Placido Domingo, Brian Wilson, Smokey Robinson, and Diana Krall. Krista has performed across North America, Europe, Russian and New Zealand, including performances at Carnegie Hall, La Scala, and the Boston Esplanade on July 4th with the Boston Pops.
Passionate about opera, Krista served as Principal Second Violin of the Canadian Opera Company Orchestra, Concertmaster of Opera Boston, performed Wagner's "Ring Cycle" with the Arizona Opera and played in the Santa Fe Opera Orchestra. An early music aficionado, Krista performed with Canada's Aradia, Boston Baroque, and is currently a tenured member of the Handel and Haydn Society.
Krista's love of chamber music led her to join WCMS nine years ago, after playing in the QX string quartet for many years prior with fellow WCMSers Peter Sulski and Rohan Gregory. Her commitment to bringing this art form to the Worcester community also included taking on administrative roles within WCMS as the organization grew. These included acting as General Manager and managing the Summer Festival and Music Camp for six years. She is thrilled to have passed the camp torch onto colleague Ariana Falk, who now holds this post.
---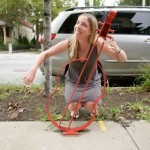 Cellist Ariana Falk currently serves as Education Director for the Worcester Chamber Music Society and runs the Neighborhood Strings and Music Camp programs. She is a former Fellow at Community MusicWorks, the Providence organization committed to creating an urban community through music education and performance. She combines performance with a passion for forging new paths in teaching artistry.
Ariana received a Doctorate of Musical Arts from Boston University and Master of Music and Artist Diploma degrees from the Yale School of Music, where she was recipient of the Aldo Parisot Prize. She received her Bachelor of Arts in English from Yale College. She has recently appeared as soloist with orchestras around North America, including Portland's Columbia Symphony, the Olympia Symphony, Yale Bach Society, and the Banff Festival Orchestras. A recent review in Portland's Oregonian said "Falk was terrific; her tone was solid and appropriately dark, and she carefully calibrated her path from lyrically mysterious beginnings on to a blistering, biting climax."
As a recitalist and chamber musician, she is a cellist with the Burlington Ensemble, and has appeared recently as a guest artist on the Marlboro College and Longy School of Music Faculty Artist series, live on WGBH Boston and WVPR, with the Boston Modern Orchestra Project, and as cellist of the Worcester Bach Consort. She has collaborated with distinguished musicians including Menahem Pressler and Paul Katz. Notable past performances include appearances at Carnegie Hall, Jordan Hall, Sprague Hall at Yale and the Kennedy Center in Washington, D.C. In addition, Ariana has toured with the Grammy Award-nominated Yale Cellos, and her discography includes their most recent CD, "Cello, Celli," featuring the music of Bach and Dave Brubeck (Naxos).
Ariana was a Fulbright Scholar to Germany, and she now serves as Music Director of the Massachusetts Fulbright Association. She has served on the chamber music faculty of Brown University and on the faculty of the Boston University Tanglewood Institute. Other festival appearances include the Norfolk Music Festival, the Garth Newel Music Center, the Banff Centre, and the Juilliard, Great Lakes, and Deer Valley string quartet seminars.
A passionate advocate for contemporary music, Ariana has premiered dozens of new works and is committed to performing and celebrating the music of our time. She worked with Joan Tower, was a member of the Norfolk Contemporary Ensemble, and gave the Heidelberg premiere of Luciano Berio's Sequenza XIV .
A native of Portland, Ariana made her solo debut with the "Live from the Schnitzer" orchestra playing Elgar at age fifteen. As part of the Charivari String Quartet with her violist twin brother, she appeared on the pilot season of "From the Top" in Boston's Jordan Hall.
---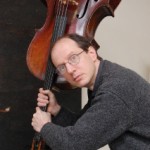 The cellist Joshua Gordon has won acclaim from audiences, critics, colleagues, and composers for his dramatic music-making and rich tone. An experienced soloist, chamber musician, recording artist, and educator who joined the Lydian String Quartet and the music faculty of Brandeis University in 2002, he is also an artist member of the Worcester Chamber Music Society and resident cellist at the annual Wellesley Composers Conference. He is equally at home whether performing on stage in famous concert halls around the world, in an Australian limestone arch cave, or with dancers on a Boston housing project basketball court. He was a member of the New York Chamber Soloists, the Group For Contemporary Music, and the New Millennium Ensemble, and has been a guest of many ensembles including the Apple Hill, Cassatt, DaPonte, Juilliard, and Ying Quartets, Boston Baroque, Boston Chamber Music Society, Chameleon Arts Ensemble, Emmanuel Music, Fromm Players at Harvard University, North Country Chamber Players, Orpheus Chamber Orchestra, Portland Chamber Music Festival, Rockport Chamber Music Festival, and Speculum Musicae.
Joshua Gordon's duo with pianist Randall Hodgkinson has been described as "insightful and impassioned" by The New Yorker, and their New World recording Leo Ornstein: Complete Works For Cello and Piano was named one of the top 10 classical recordings of 2007 by the All Music Guide. As a Lydian, Gordon can be heard on critically acclaimed recordings of quartets by Martin Boykan, Mohammed Fairouz, John Harbison, Vincent Persichetti, and their newest set on Centaur of Beethoven's late quartets released in 2012. He is also featured playing music ranging from Roger Sessions and Charles Wuorinen to Morton Feldman and Gerry Hemingway on recordings from Albany Records, CRI, Cala, Koch International Classics, Naxos, and Tzadik. His website can be found at joshuagordoncello.com.
---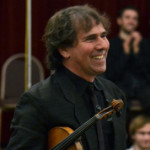 Rohan Gregory, violin – Rohan Gregory is a violinist who has cultivated a wide-ranging expertise in chamber music, new music and world music. He has played with the Apple Hill Chamber Players, the Ancora Ensemble and award-winning Boccherini Ensemble and was also a founding member for ten years of the Arden String Quartet, performing new music concerts in New York, Boston, Amsterdam and St. Petersburg, Russia.  He has recorded on for Centaur records.
On the world music scene, Rohan has toured extensively. His travels have taken him to Europe with the Klezmatics, to Thailand with multi-ethnic flute player Abbie Rabinowitz, to India with the Indo-jazz group Natraj and to the U.S. west coast with Sophia Bilides Greek Folk Ensemble. Recently he has played nationally and internationally with the flamenco guitarist Juanito Pascual. Locally, Rohan is a member of the Lyric Opera Company and the Boston Modern Orchestra Project. He coaches chamber music for the Walnut Hill School, teaches at the College of the Holy Cross, and spends his summers coaching at the Apple Hill Center for Chamber music in New Hampshire, at Music at Port Milford in Ontario, Canada, and at WCMS's ChamberFest Music Camp.
---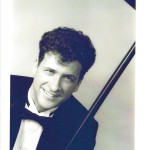 Randall Hodgkinson, piano – is the Grand Prize Winner of the International American Music Competition sponsored by Carnegie Hall and the Rockefeller Foundation.  He's performed with orchestras in Atlanta, Philadelphia, Buffalo, Boston, Cleveland and abroad in Italy and Iceland. In addition, he has performed numerous recital programs spanning the repertoire from J.S. Bach to Donald Martino. He is the newest member of the Worcester Chamber Music Society, and he performs the four-hand and two-piano repertoire with his wife Leslie Amper. Mr. Hodgkinson's festival appearances include Blue Hill (Maine), BargeMusic, Chestnut Hill Concerts (Madison, Connecticut), Seattle Chamber Music Festival, and Santa Fe Chamber Music Festival. Recently, Mr. Hodgkinson gave the world premiere of the Piano Concerto by Gardner Read at the Eastman School in Rochester. He's a faculty member of the New England Conservatory of Music in Boston and the Longy School of Music in Cambridge.
---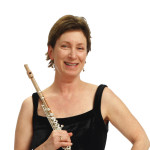 Tracy Kraus, Executive Director/flute – "Supple and riveting…. elegant and adroit playing…dazzling" (Worcester Telegram) eloquently describes the playing of Tracy Kraus. She has performed throughout Europe and the United States and participated in the Aspen and Tanglewood festivals. Her love of the Northern California coast led her to her current orchestral tenure with the Mendocino Music Festival.  In 1982 Ms Kraus founded the Abbot Chamber Players and quickly discovered her passion for the genre and organization management. Ms. Kraus is a co-founder and Executive Director of the Worcester Chamber Music Society and has led the group through a significant stage of growth and success.
Tracy is a graduate of Clark University and the Boston Conservatory and studied with flute masters Louis Moyse, Trevor Wye, Leone Buyse and Geoffrey Gilbert.
---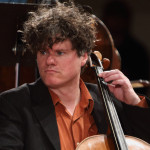 David Russell, cello – Hailed as a "superb cellist" in the Boston Globe, David Russell maintains a vigorous schedule both as soloist and as collaborator in the U.S. and Europe. He was appointed to the teaching faculty of Wellesley College in 2005 and currently serves as Director of Chamber Music. He is a regular performer with several Boston-area ensembles such as Emmanuel Music and Cantata Singers and Ensemble and served as Principal Cello with Opera Boston from 2005-2011.
A strong advocate and performer of new music, Mr. Russell has performed with such ensembles as Firebird Ensemble, Boston Modern Orchestra Project, Entelechron, Phantom Arts Ensemble for American Music, Dinosaur Annex, Collage New Music, Music on the Edge, AUROS Group for New Music, and the Fromm Foundation Players at Harvard. He has performed and taught at SICPP at New England Conservatory, the Composers' Recording Institute at Cleveland State University and the Icicle Creek Center for Chamber Music. Recent projects include solo recordings of works by Roger Zahab with Enelechron, Chen Yi's Suite for Cello and Chamber Winds with BMOP, Eric Moe's Mud Wrestling at the OK Corral for cello and piano and Donald Crockett's Scree with Firebird Ensemble; premieres of a new cello concerto by Laurie San Martin, a new concerto for quintet and orchestra by Derek Hurst with the Firebird Ensemble and Boston Modern Orchestra Project, new works for solo cello by Sam Nichols, Roger Zahab and Andrew Rindfleisch, residencies at the University of California-Davis, the Boston Conservatory and the Icicle Creek Center for Chamber Music and, with Firebird, recordings of works by Lee Hyla and Tamar Diesendruck. He teaches at the Cello Seminar, a summer program for study of contemporary cello music associated with Music from Salem and developed by Rhonda Rider. He has recorded for the BMOPSound, Albany Records, New World Records, Centaur Records and Composers Recordings labels.
---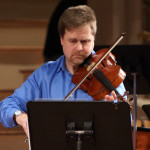 Peter Sulski, viola, has performed in over 30 countries as a member of the Apple Hill Chamber Players, London Symphony Orchestra, Academy of St.-Martin-in-the-Fields, Cyprus Chamber Orchestra, and Al Kamandjati Baroque Ensemble (Palestine). He returned to his native Worcester in 2002, after holding  the position of Head of Strings of the Edward Said National Palestinian Conservatory.
Mr. Sulski is a founder and member of the Worcester Chamber Music Society, which performs over twenty concerts annually in the New England region. He is an educator with the society's Neighborhood Strings, a free program for disadvantaged youth. Peter is also the founder of Chapel Royal Concerts in Brighton, England, now entering its 25th season, presenting over 40 concerts annually.
Performances of note have included the Arnold Viola Concerto with the State Orchestra of Sicily, Mozart's Sinfonie Concertante with the Cyprus Chamber Orchestra and the Palestine National Orchestra, a Carnegie Hall debut in 1999, and  a solo recital appearance at London's South Bank in 2002.
He currently appears as principal violist with Odyssey Opera, Camerata New England, and the Orchestra of Indian Hill.  Other chamber music activities include the Pedroia quartet, (along with Jae Lee, a founder of A Far Cry), the Chameleon Ensemble,  duo partnerships with pianists Yundu Wang and Jonathan Yasuda, Boston Musica Viva, Clark 2021 Contemporary Ensemble, and the Al Kamandjati Baroque Ensemble.
Other activities and professorships include Concert Master of  Bach Consort, specializing in baroque violin concertos, and positions at College of the Holy Cross, Clark University, Assumption College, and Worcester State University. He is Artistic Director of the Worcester Symphonic Project, part of Music Worcester's Outreach Program.
He received his undergraduate education at the Eastman School of Music, and holds Artist Diplomas from the Banff Centre for the Arts and the Royal Academy of Music, London. Peter is a former fellow of the Tanglewood Music Center.
Mr. Sulski is a United States Cultural Envoy to Jerusalem for his work bringing music to young Palestinians living in refugee camps. He is also a solo recording artist for Parma Records.
His viola was made by luthier Marten Cornelissen, opus 252 (1980), in Northampton, Massachusetts.
---