Why Sponsor Worcester Chamber Music Society?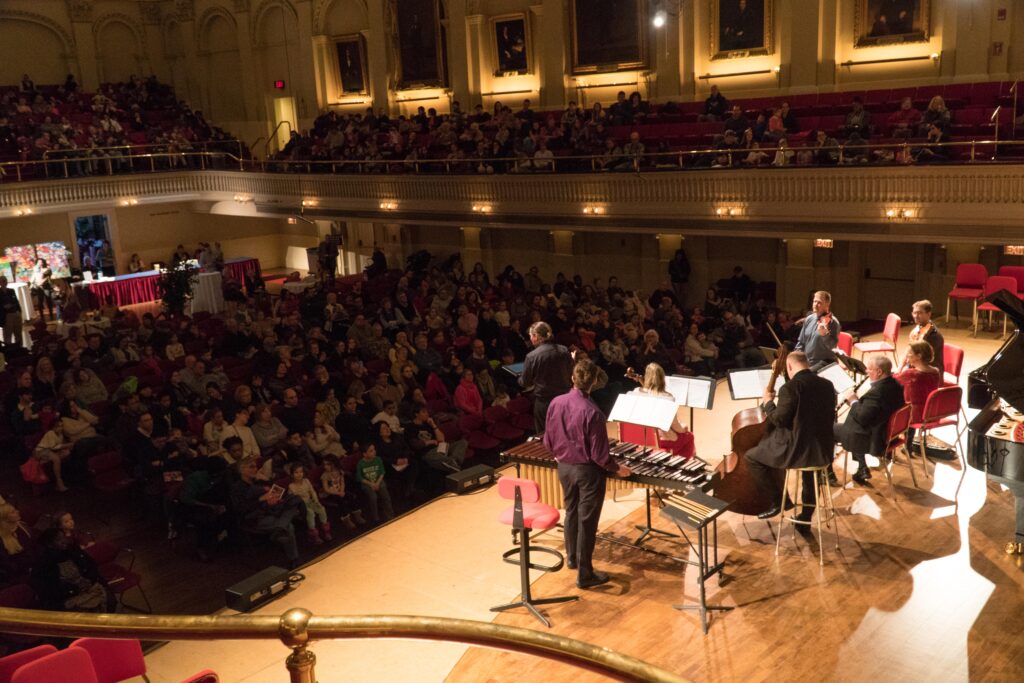 Worcester Chamber Music Society Annual Family Concert, Mechanics Hall
Hailed as the premiere classical ensemble in Worcester County, Worcester Chamber Music Society offers a blend of concerts, education and community events that draw from the entire Central Massachusetts region.
When you partner with Worcester Chamber Music Society, you align your business with a world-class chamber music group and gain exposure to a diverse and sophisticated audience. We have developed a loyal following and many of our venues are sold out or at capacity. We support the local business community by actively seeking vendors for our printing, design, reception and website needs in the Worcester area.  Our presence in Worcester attracts individuals and families seeking a city with a vibrant arts culture supported by both its residents and the business community.
Corporate sponsorship of our Free Community Concerts provides access to the arts to those in our community who have limited means.
Our Annual Free Family Concert fills Mechanics Hall each season and for most of the children, it is their first exposure to classical music.
Corporate sponsorship of our Neighborhood Strings program provides WCMS with greater ability to provide free, quality music education, offering youth in Worcester's Main South neighborhood children an opportunity further their education and become productive members of our community.
Corporate sponsorship not only provides necessary support for operating costs, but also helps to provide high-quality chamber music at affordable prices to the Greater Worcester community.
By partnering with WCMS, your company will:
• Establish an association with a LOCAL, world-class chamber music ensemble
• Raise its community profile and visibility as a philanthropic corporation
• Help make chamber music accessible and affordable to the Greater Worcester community.
• Provide opportunity for youth to succeed, thrive and add value to our community through the power of music
Corporate Sponsorship Benefits
• Company name or logo listed in our season brochure, season program book, website with a link to your website, all flyers, postcards and other marketing materials, and e-newsletters
• Advertisement in our program book (size will depend on sponsorship level)
• Sponsor receives complimentary tickets and the opportunity to purchase additional tickets at a special discount.
Sponsorship Opportunities
Sponsorship Opportunities range from $500-$2500
The Recognition You Deserve
Worcester Chamber Music Society corporate sponsors receive recognition in all publicity and promotional materials associated with their specific sponsorship. With a focus on the Central Massachusetts region, our ads are seen in the Telegram & Gazette, Worcester Magazine, Worcester Business Journal, and a majority of the local town papers. We utilize local radio stations WICN, WCUW, WTAG and advertise with WGBH, WBUR, and WFCR. We have an active social media strategy using Facebook, Twitter, and Instagram.
Thank you for considering corporate sponsorship for one of our upcoming concerts. It is through this partnership that we are able to continue to enrich the cultural life of Worcester County, helping to make the City an outstanding place to live and work.
Call our office at 508-926-8624 to discuss sponsorship opportunities.