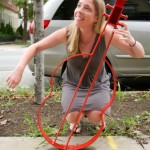 Cellist Ariana Falk currently serves as Education Director for the Worcester Chamber Music Society and runs the Neighborhood Strings and Music Camp programs. She is a former Fellow at Community MusicWorks, the Providence organization committed to creating an urban community through music education and performance. She combines performance with a passion for forging new paths in teaching artistry.
Ariana received a Doctorate of Musical Arts from Boston University and Master of Music and Artist Diploma degrees from the Yale School of Music, where she was recipient of the Aldo Parisot Prize. She received her Bachelor of Arts in English from Yale College. She has recently appeared as soloist with orchestras around North America, including Portland's Columbia Symphony, the Olympia Symphony, Yale Bach Society, and the Banff Festival Orchestras. A recent review in Portland's Oregoniansaid "Falk was terrific; her tone was solid and appropriately dark, and she carefully calibrated her path from lyrically mysterious beginnings on to a blistering, biting climax."
As a recitalist and chamber musician, she is a cellist with the Burlington Ensemble, and has appeared recently as a guest artist on the Marlboro College and Longy School of Music Faculty Artist series, live on WGBH Boston and WVPR, with the Boston Modern Orchestra Project, and as cellist of the Worcester Bach Consort. She has collaborated with distinguished musicians including Menahem Pressler and Paul Katz. Notable past performances include appearances at Carnegie Hall, Jordan Hall, Sprague Hall at Yale and the Kennedy Center in Washington, D.C. In addition, Ariana has toured with the Grammy Award-nominated Yale Cellos, and her discography includes their most recent CD, "Cello, Celli," featuring the music of Bach and Dave Brubeck (Naxos).
Ariana was a Fulbright Scholar to Germany, and she now serves as Music Director of the Massachusetts Fulbright Association. She has served on the chamber music faculty of Brown University and on the faculty of the Boston University Tanglewood Institute. Other festival appearances include the Norfolk Music Festival, the Garth Newel Music Center, the Banff Centre, and the Juilliard, Great Lakes, and Deer Valley string quartet seminars.
A passionate advocate for contemporary music, Ariana has premiered dozens of new works and is committed to performing and celebrating the music of our time. She worked with Joan Tower, was a member of the Norfolk Contemporary Ensemble, and gave the Heidelberg premiere of Luciano Berio'sSequenza XIV .
A native of Portland, Ariana made her solo debut with the "Live from the Schnitzer" orchestra playing Elgar at age fifteen. As part of the Charivari String Quartet with her violist twin brother, she appeared on the pilot season of "From the Top" in Boston's Jordan Hall.
Share