Youth Making Social Change through Music 
Musician as Citizen, affectionately known as MAC, is our newest youth leadership initiative. This program provides ChamberFest students with opportunities to share their love of music and mentorship skills with youth in WCMS's Neighborhood Strings program.
What does the Musician as Citizen program give me?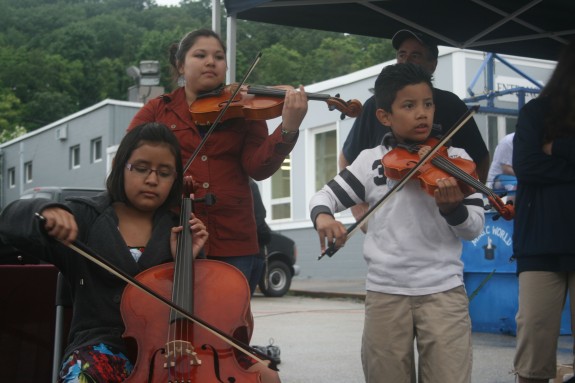 •  Provides a structured volunteer environment to build on the skills learned at the summer camp, including performance, communication, respect and teamwork
•   Provides mentorship to develop leadership and teaching skills
•   Builds community awareness through the act of giving back
•   Provides the opportunity to gain community service hours required  by many area high schools as well as members of the National
Honor Society
•   Opens the door to potential college scholarship funding through
our community partners
What would I do as a Musician as Citizen, volunteering in Neighborhood Strings?
Spend 2-3 hours/week as musical mentor for underprivileged youth
•   Serve as a "practice buddy" to a child
•   Assist a professional teaching artist in a group class environment: tweak bow hold, demonstrate a technique or lead an activity!
•   Participate in ensemble and chamber music groups as a leader
•   Participate in a discussion with teen students as part of the "NS Club", a young teen leadership group focusing on issues
around artistry and social change
•   Participate in extra concerts and trips to Mechanics Hall, Start on the Street, the EcoTarium, the Worcester Art Museum
For further information  contact:
Ariana Falk, Education Director
Ariana@worcesterchambermusic.org
203-464-4924