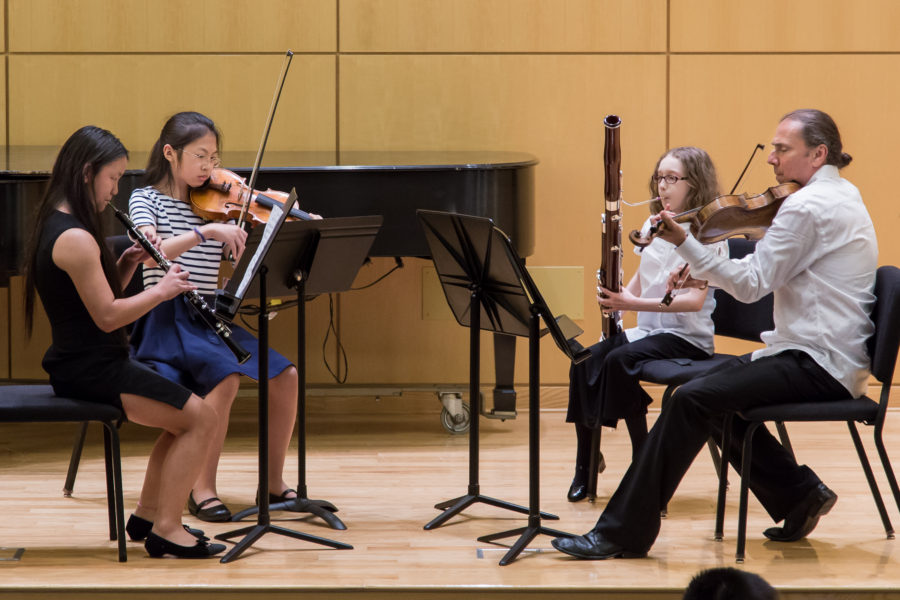 Participants will be placed into groups that reflect their ability. Auditions are not required. Placement in ensembles will be determined by the number of years the participant has played, what type of repertoire he/she is currently playing, as well as a discussion with the participant's private teacher. Video submission are encouraged for more accurate ensemble placement. ChamberFest offers private work with coaches, daily practice help, and wide-ranging musical workshops. Extracurricular activities like swimming, soccer, and ultimate frisbee also make up part of the day
Overnight participants arrive between 5:00-7:00 PM on July 12 and/or July 19, to check into the gender-segregated, monitored air-conditioned dorms, 4-6 room suites, provided by Clark University.  Boarding accommodations include three meals a day.
Day participants should arrive on July 13 and/or July 20 by 9:00 AM for an introductory meet-and-greet. Lunch is available for purchase in advance, or participants may choose to bring their own.
---
A typical day:
8:00-9:00 AM Breakfast
9:30-10:45 Chamber Music Session 1
11:00-12:15 Performance-related workshops
12:15-1:00 PM Lunch
1:00-1:30 Practice, free time
1:30-2:45 Chamber Music Session 2
3:00-4:00 Drumming group (required for all participants)
4:15-5:00 Performance-related workshops
5:00-6:00 Sports, practice, free time
6:00-7:00 Dinner
8:00- Informal student performances, faculty concerts and social activities.
Music will be sent out in advance for participants to prepare and bring to the first day of rehearsal. The session will culminate in a final performance, open to the public, by the chamber groups on the afternoons of Friday, July 17 and Friday, July 24.