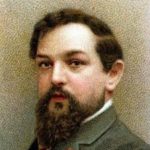 Claude Debussy, one hundred years after his death, has left a legacy of extraordinary evocations of meaning in nuance. The ravishing and scintillating Sonatas for both cello and violin will be presented along with that great exploration of sound and silence, the Trio for Harp, Flute and Viola. Faure's great Piano Quartet in C minor, dark and romantic, completes this celebration of French musical genius.
Thursday, April 12  7:30 PM
Unitarian Universalist Church
9 Ayer Road, Harvard
Saturday, April 14   7:30 PM
Shapiro Hall, Joy of Music Program
1 Gorham Street, Worcester
Pre-concert talk 7 pm*
Tickets: Adults $30-$36, Students $10-$12, Youth under 17 free
EBT card holders $5, call 508-757-5006 for the discount code (you must show your card at the door).
Tracy Kraus, flute; Krista Buckland Reisner, violin; Peter Sulski, viola; David Russell, cello; Randall Hodgkinson, piano
With guest Franziska Huhn, harp
Program (view program notes)

DEBUSSY Sonata in G minor for violin and piano [listen]
DEBUSSY Trio for flute, violin, and viola [listen]
DEBUSSY Sonata in G minor for cello and piano [listen]
FAURÉ Piano Quartet No. 1 in C minor [listen]
*April 14 pre-concert talk by Steven Ledbetter
Steven Ledbetter was Musicologist and Program Annotator for the Boston Symphony Orchestra from 1979 to 1998, at which time he created his own service, Steven Ledbetter Program Notes, and now writes notes for orchestras, chamber ensembles, opera companies and other musical entities; his program notes have appeared on every continent except Antarctica, and he is in demand as a pre-concert lecturer.  He has written the notes for approximately 300 recordings. His scholarly specialties include the 16th-century Italian madrigal, American music, and musical theater. In 1991 his BSO program notes received an ASCAP/Deems Taylor Award for "distinguished print and media coverage of music.