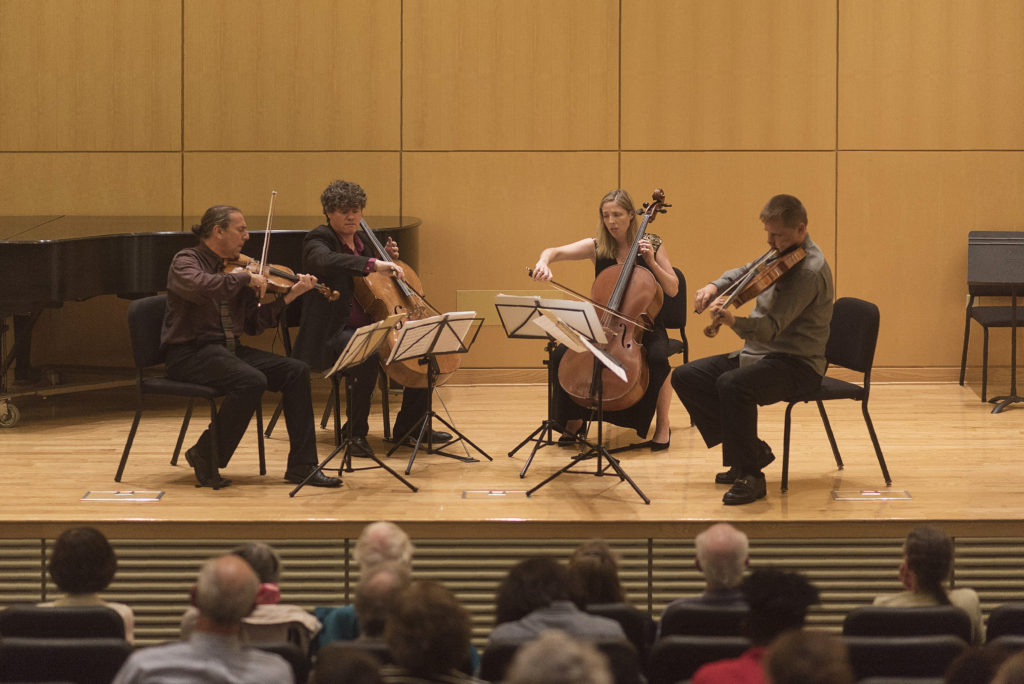 The WCMS ChamberFest Summer Concert series features ChamberFest faculty Rohan Gregory, Peter Sulski, David Russell, Ariana Falk, and Randall Hodgkinson performing an array of chamber music gems!
ChamberFest concerts are held at Traina Center for the Arts | Razzo Hall
Clark University, 92 Downing Street, Worcester
Concerts begin at 8:00 PM with a pre-concert talk at 7:30
Tickets $32 Adults, $15 ChamberFest families, $10 Students, Youth under 17 free
$5 EBT card holders (you must show your card at the door)
CONCERT 1
Weaving a tapestry of gypsy colors, Kodaly captures the raw and compelling spirit of the folk of Hungary whom he so loved, in his famous duo for cello and violin. Followed by the miraculous shimmers of her Seven Butterflies, the Finnish composer Saariaho transforms the cello into this most sensitive of creatures. Then Brahms, with all his depth and majesty, gives us a trio from the sunset of his life in a piece that both haunts and caresses. A concert worth every drop.
Thursday, July 5, 2018
Of Gypsies and Butterflies
KODALY Duo for violin and cello, op. 7  [listen]
SAARIAHO Sept Papillons for cello solo  [listen]
BRAHMS Trio in A minor, op. 114  [listen]
CONCERT 2
Sparkling like a well-cut gem, Haydn's trio brilliantly illuminates with unexpected shafts of light and color and always with a glint of humor in the eye. And then the unbounded energy of Bach's first violin concerto, filled with vivacious dialogues and sudden outbursts that express realms of pure joy. And to finish, the tempests, and longings of the great romantic, Dvorak, his piano quartet leading us from triumphant heights to lonely laments, a wild story told with the fire and grace of the Czech soul. Truly a concert of living contrasts.
Thursday, July 12, 2018
Grazioso to Fuoco – The Graceful Fire
HAYDN Piano Trio in A major, Hob. XV:18   [listen]
BACH Goldberg Variations arranged for string trio  [listen]
DVORAK Piano Quartet in Eb major, op. 87   [listen]
WCMS Musicians: Rohan Gregory, violin; Peter Sulski, viola; David Russell and Ariana Falk, cello; Randall Hodgkinson, piano
Share