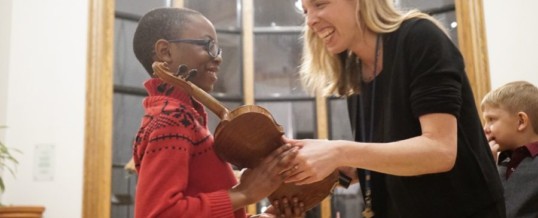 Instrument Presentation Ceremony
Posted January 24, 2018
One of the most exciting times of the year for us is when our Neighborhood Strings student musicians receive their instruments! They walk in regular people…and walk out as proud musicians.
Our Education Director and head of Neighborhood Strings, Ariana Falk, said it best that when they receive their instruments for the first time, it's incredibly exciting and gratifying. "The instrument is like a symbol of the effort and commitment they have already made, but also of so much possibility and creativity. There is so much potential to be creative in those pieces of wood, and so many things to explore. They also feel the trust we are putting in them by giving them these fragile, art-like instruments."
Surrounded by their families and supporters, the students – most of them from Main South – beamed with pride. For them, receiving the instruments represents much more than having that violin or a viola to finally create music on; it's a culmination of weeks of preparation, instruction and background of those instruments. Since November, the students, ranging in ages 6-12, attended an after-school program at Woodland Academy two to three times a week to learn music fundamentals. Before the holidays, these students practice their postures and positions by holding cereal-box violins and dowel bows, prepping for the real thing.
Both 10-year-old Boen and nine-year-old Caleb said they were going to try to "see if they can play it" the minute they got home that night. The two student musicians were among 11 who received their instruments in the sixth annual ceremony for Neighborhood Strings.
If you'd like to learn more about our Neighborhood Strings program, contact Ariana Falk, Education Director for the Worcester Chamber Music Society at Ariana@worcesterchambermusic.org.
Tracy Kraus, Executive Director
We are making a difference
Posted December 15, 2018
One of the most moving things to witness as a teacher is when students take off with the material we give them and widen their own worlds. One longtime Neighborhood Strings student, Peter K., has been doing that this fall in an inspiring way.
Peter has been playing the viola since the very beginning of Neighborhood Strings, as a fourth-grader. As a student of "big Peter" Sulski, he has really taken off, reaching a level of comfort and joy on his instrument that has allowed him to move onto harder and more satisfying music.
Now a high school sophomore, Peter has come to ChamberFest (our music camp) three times and played works by Corelli, Handel, Mozart alongside advanced players his age and older.
Most exciting – this fall, he took on the challenge of playing in Clark Sinfonia, a college-level ensemble, where he played the entire program last month as a member of the viola section.
I loved watching him sit with the college students, studying his scores and standing proudly on the stage of Razzo Hall. Any younger Neighborhood Strings student can simply look at Peter to see how music can send them on an amazing journey.
Ariana Falk, WCMS Education Director
Share