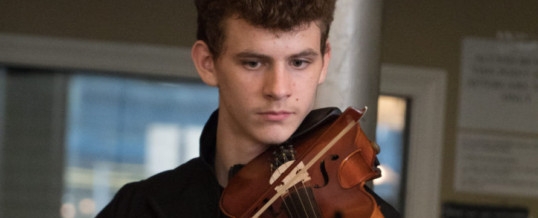 We are making a difference
Posted December 15, 2018
One of the most moving things to witness as a teacher is when students take off with the material we give them and widen their own worlds. One longtime Neighborhood Strings student, Peter K., has been doing that this fall in an inspiring way.
Peter has been playing the viola since the very beginning of Neighborhood Strings, as a fourth-grader. As a student of "big Peter" Sulski, he has really taken off, reaching a level of comfort and joy on his instrument that has allowed him to move onto harder and more satisfying music.
Now a high school sophomore, Peter has come to ChamberFest (our music camp) three times and played works by Corelli, Handel, Mozart alongside advanced players his age and older.
Most exciting – this fall, he took on the challenge of playing in Clark Sinfonia, a college-level ensemble, where he played the entire program last month as a member of the viola section.
I loved watching him sit with the college students, studying his scores and standing proudly on the stage of Razzo Hall. Any younger Neighborhood Strings student can simply look at Peter to see how music can send them on an amazing journey.
Ariana Falk, WCMS Education Director
Share