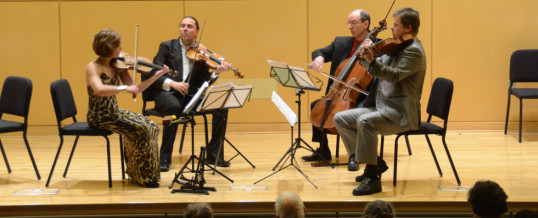 This program features three great composers who lived and worked in Worcester. Dvorak's stirring Bass Quintet, Sedgwick's visionary Theme and Variations for String Quartet and a few beloved Cole Porter songs are offset by the riches of Schulhoff's Trio for Flute, Viola, and Bass. We proudly herald the musical inspirations that come from and flow through Worcester, our beloved city.
Sponsored by the Worcester Historical Museum in conjunction with their exhibit "Worcester in 50 Objects" celebrating the 140th anniversary of the Worcester Historical Museum, October 27, 2016 – March 11, 2017.  
Please consider donating a new or gently used coat for the newest Syrian and Iraqi refugees recently resettled in Worcester. Coats will be collected at the door. All sizes are needed!
Thursday, November 3  7:30 PM
Congregational Church
30 Grafton Common, Grafton
Pre-concert 7:00 PM
Saturday, November 5, 7:30 PM
Worcester Historical Museum
30 Elm Street, Worcester
Pre-concert talk 7:00 PM
Guests: Ashleigh Gordon, viola; and Anthony D'Amico, double bass
Tickets: Adults $29/$35, Students $10/$12, Youth under 17 free admission
Program
SCHULHOFF: Concertino for flute, viola, and double bass
SEDGWICK Theme and Variations for String Quartet (2009)
DVORAK String Quintet No. 2 in G Major, Op. 77
COLE PORTER Selected Songs Arr. for String Quartet
These concerts are funded in part by grants from the Grafton and Paxton Cultural Councils, local agencies funded by the Massachusetts Cultural Council, a state agency.
Share